USB Interface
This section describes the interface requirements for an OEM7 receiver card USB port. For general information about the OEM7 receiver card USB ports, see USB Ports.
OEM7 receivers include an USB 2.0 device interface set to either Full-Speed (12 Mb/s) or High-Speed (480 Mb/s) transfer rate. On the OEM719 and OEM729 receivers, the transfer rate for the USB Device port is Full-Speed (12 Mb/s). The USB device interface on the OEM7600, OEM7700 and OEM7720 receivers use the High-Speed (480 Mb/s) transfer rate. The device interface will not auto-negotiate the speed with the Host computer.
It is imperative for signal integrity and EMI reasons that the differential data traces be routed as a 90Ω differential pair. Use of a small-value common-mode choke (as shown in Figure: OEM7 USB Device Interface Example) may improve the radiated emissions performance (but should not be necessary).
Any stubs on the traces must be kept as short as possible and it is strongly recommended not to change reference planes. Match the USB differential pair (D+ and D- trace lengths) to within 3 mm or less.
The common-mode choke and ESD protection should be placed as close as possible to the USB connector (J1).
USB Device Interface Example Bill of Materials

| | | |
| --- | --- | --- |
| Designator | Manufacturer | Manufacturer Part Number |
| D1 | On Semiconductor | ESD7L5.0DT5G |
| D2 | On Semiconductor | ESD5Z6.0T1G |
| FB1 | TDK | MMZ1005B800C |
| L1 | Wurth Electronics | 744230900 |
| J1 | FCI | 10104110-0001LF |
OEM7 USB Host Device Interface Example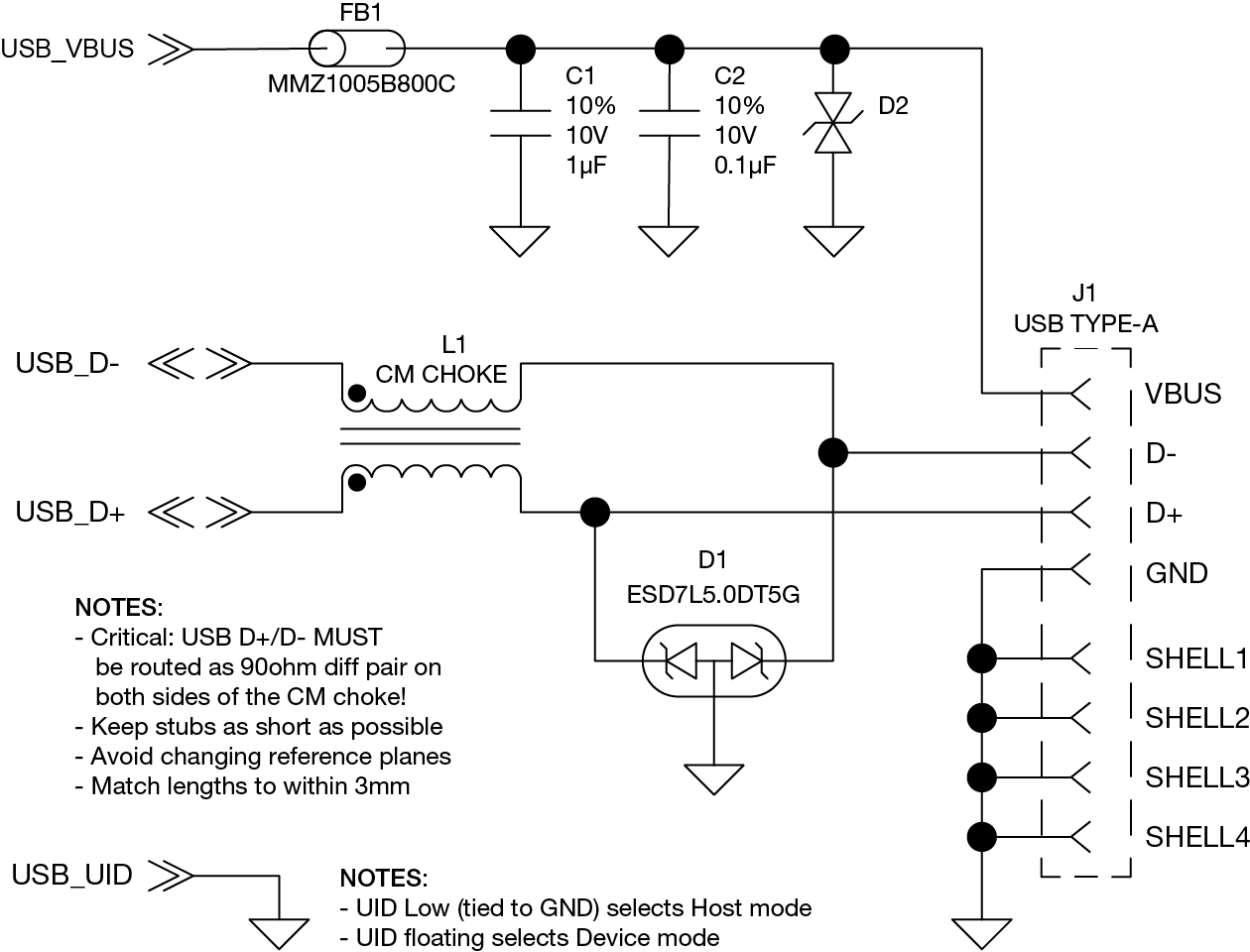 USB Host Interface Example Bill of Materials

| | | |
| --- | --- | --- |
| Designator | Manufacturer | Manufacturer Part Number |
| D1 | On Semiconductor | ESD7L5.0DT5G |
| D2 | Littelfuse | V5.5MLA0402NR |
| FB1 | TDK | MMZ1005B800C |
| J1 | Molex | 0482040001 |
| L1 | Wurth Electronics | 744230450 |